Reading Time:
2
minutes
Did you know that Uber drivers are officially allowed to ask for tips
Yup, with the big contractor lawsuit that classified Uber drivers as contractors and not employees came a lot of new freedom for Uber drivers.
With that freedom, drivers can now directly ask their passengers for tips…
Now, asking a PAX directly to give you a few bucks can be awkward…. and maybe a bit rude.
So some savvy rideshare drivers started hanging signs in the back of their car.
Signs that simply let the passenger know that Tips ARE appreciated.
Today, HyreCar is happy to annouce that we're giving away a 100%FREE tip sign for the back seat of your car.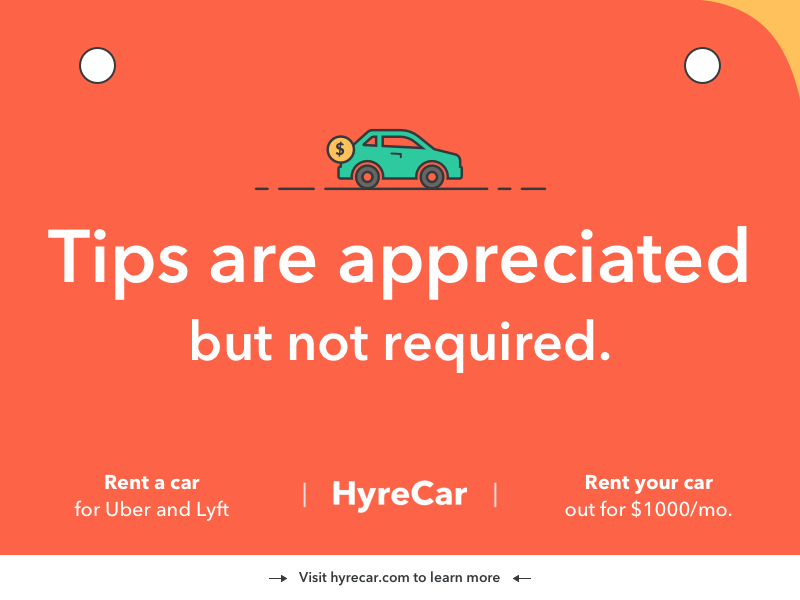 Drivers with tip signs report making an average of $17 extra every day.
That's an extra $500 per month.
We're giving away two free signs to any driver that requests one.
You can request one right now by clicking the link below:
HyreCar.com/tipsign
Here's how to get it set up once you receive it:
Step 1: Use a whole punch to pop out the two holes that are near the top.
Step 2: Take a piece of string, dental floss, tape, basically anything string like, and wrap it through the two holes.
Step 3: Simply attach both signs to the back of your driver / passenger seat.
Step 4: Prepare yourself for an influx of extra cash.
Sign up now, because supplies WILL NOT last long.
Happy Driving!